Welcome, to where you can discover all about the spectacular speakers and events, and guarantee your place alongside some of your favourite writers, at the Lavenham Literary Festival. For three days every other year, our beautiful mediaeval village in Suffolk becomes the venue for a celebration of the written word. Lavenham itself, with its Guildhall – heralded as the finest example of a timbered building of the period in the UK – and 300 listed buildings in a village with a population of under 2000, offers some outstanding hotels, restaurants, shops, and galleries. There is an ambience for readers of every genre, a place for every need.
The full festival returns in 2015 on 13, 14 and 15 November  (see separate tab at the top of this page) but, in association with The Swan at Lavenham, we  staged a special event on 14 November 2014: a charity dinner in support of East Anglia's Children's Hospices, EACH, with Anthony Horowitz as our honoured guest.
He was interviewed by Lesley Dolphin (BBC Radio Suffolk presenter) and spoke about his work as a novelist and screenwriter. The creator of "Foyle's War" and responsible for much television drama, his writing for children and teenagers includes the Alex Rider series. Anthony's first Sherlock Holmes novel The House of Silk won great acclaim and the second, Moriarty, was published in October – three weeks before his appearance in person in Lavenham.
A James Bond novel – Murder On Wheels, based on an episode written by Fleming in the 50's, and which has the blessing of the Fleming estate – will appear later this year.
We are delighted to say that the event raised in excess of £3,500 for EACH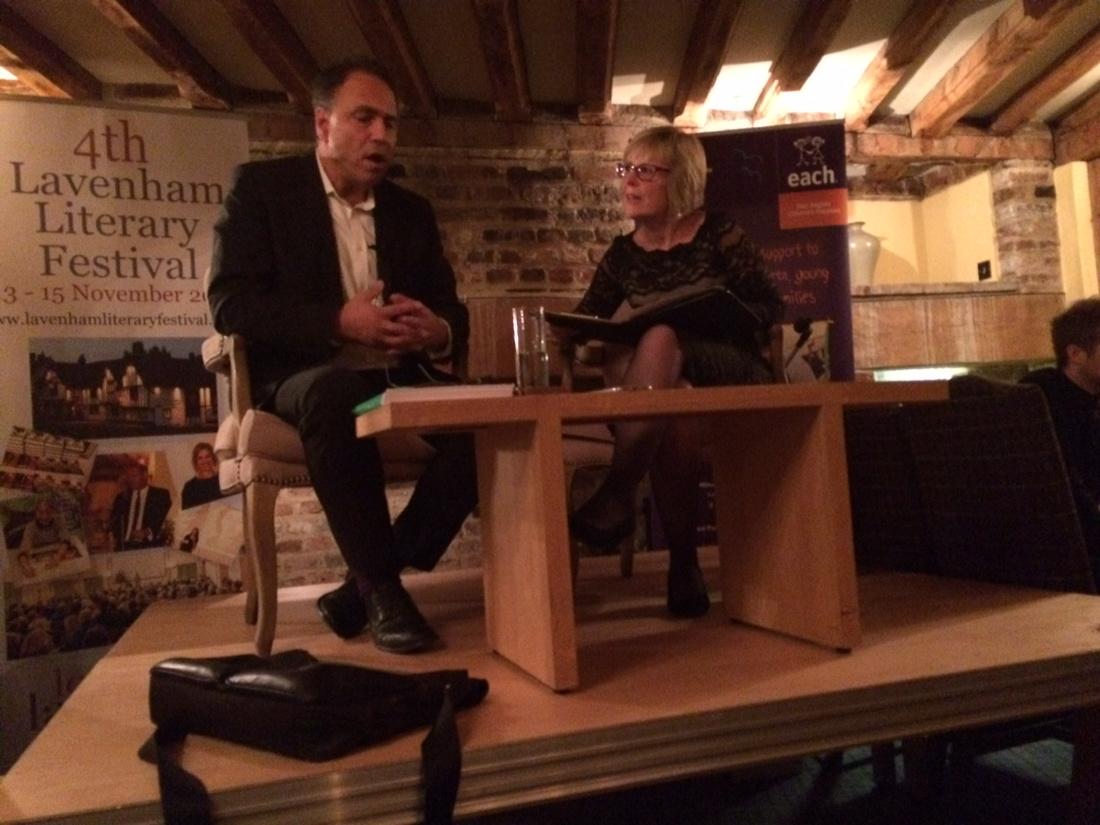 Here are some of the highlights from the 2013 festival:
The Festival was a huge success, enjoyed by us the organizers, the visitors, and certainly not least, the speakers.  Here are some of their comments:
"Brilliant organisation and fabulous speakers – KB, Bures
"2013 was my third Lavenham Festival. Well chosen authors make this an excellent event." AC, Bury St Edmunds
"The mix of authors and books worked extremely well, ensuring that there were sessions of interest for most readers." RB, Birmingham
"Had a wonderful time listening to excellent talks – roll on your next festival!" JP, Nottinghamshire
"Impressive organisation of the speakers, book signing and refreshments." T, Nayland
"I thoroughly enjoyed all the sessions and meeting the authors.  I do hope to return to the Festial in 2015, hopefully with my husband and some friends whom I know would thoroughly enjoy the experience." SN, Bermuda
These are only a few of the many responses we had from attendees to our wonderful festival last November. We thank all those who filled in a Questionnaire, from which we extracted one, and the lucky winner of the East Anglian goodie bag (presented by sponsors Atkinson Bolton) was Mrs C of Essex.  We will make use of all your suggestions to make the 2015 Festival as enjoyable and rich an experience as the one we've just had.  
The Lavenham Literary Festival would not be possible without the help of our sponsors and supporters. View all our supporters